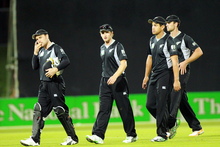 A lot has been made of the Black Caps struggling in the second innings of tests. Andrew Alderson argues the problem lies not so much with runs compared with yesteryear, but the ability to chase or bat time in the context of a match.
One of the recent criticisms surrounding the New Zealand batsmen has been the inability to apply themselves when they get a second chance in tests.
Talkback lines and internet forums erupt in rage. The water cooler is peppered with spittle as apoplectic cricket-followers pontificate. "Twenty20 cricket has ruined them", "they're too soft", "they should be paid on a win-only basis". Familiar lines abound.
Those are passionate and sometimes understandable reactions to a team who often seem to play below their perceived ability.
The reality is, when it comes to second innings, little has changed since what is often recognised as the golden era of New Zealand cricket, spearheaded by Sir Richard Hadlee and Martin Crowe in the 1980s. The difference is those 1980s teams declared less and were better chasers in the fourth innings of games.
In 59 tests across the 1980s, New Zealand chased down a winning total nine times. In 58 tests since the advent of T20 cricket in February 2005, that has happened just four times (two of those coming against Bangladesh).
Both eras have similar percentages of sub-300 and sub-200 scores in the second innings. Much damage can be done by crumbling in the first turn at bat - the incumbents have endured plenty of that - but no generation of New Zealand cricketers has had a mortgage on the right to capitulate; 26, anyone?
There is an argument more runs should have been scored on better quality pitches in modern times but it is also an era when reverse swing has to be countered more often.
Even in terms of occupation of the crease the eras have parity when it comes to being dismissed inside 50 overs. Fifty overs is an arbitrary figure but suggests Twenty20 cricket might have made less difference than is perceived when it comes to getting out cheaply in tests.
What makes the current period more galling is New Zealand haven't scored more than 300 in a second innings since November 2010. That was against India in Hyderabad for a draw (448 for eight, declared).
The latest routs against the West Indies and India brought the issue to a head again. Former coach John Wright's feelings were palpable when he called for fewer excuses, more peer pressure and greater self responsibility.
In 11 tests, the best he saw was 293 in a second innings to force a draw against Pakistan in Wellington in January 2011. There were five losses in his tenure and minimal time spent at the crease late in the match. New coach Mike Hesson has started with two defeats making a total of seven in the last 13 tests. In five of those tests New Zealand has had a sub-200 run second innings total.