England's Sarah Taylor ready to rule at ICC Women's World Twenty20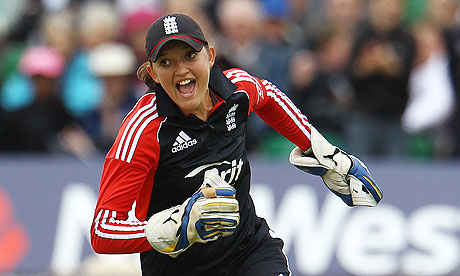 England will field the outstanding player of the ICC World Twenty20 in Sri Lanka when it begins later this month. No, that does not herald a shock comeback by Kevin Pietersen, who was the man of the tournament when England were crowned world champions in the Caribbean in 2010. It is the 23-year-old wicketkeeper batsman from Sussex, Sarah Taylor, who is ready to command centre stage, according to her captain Charlotte Edwards, as England's women aim to make up for the bitter disappointment they suffered in the West Indies two years ago.
"I believe she's the best player in the world – this is the stage for her to go out and show everyone," Edwards said, with a slightly sheepish and surprised Taylor sitting next to her.
"That's not pressure I'm putting on – that's what we expect of her."
"I haven't heard it before actually," Taylor responded. "Thanks. I still look at Charlotte as the best batsman in the world. And I still stand at the non-striker's end as a kid just watching her bat. So for her to say that is fantastic."
It may also be seen as slightly provocative, ahead of a five-match series against a West Indies team who include a highly-rated Miss S Taylor of their own — Stafanie Taylor, a hard-hitting 21-year-old all-rounder from Jamaica. Taylor has already broken new ground for the women's game by earning inclusion on the long-list of nine contenders for the world cricketer of the year award, alongside the likes of Hashim Amla, Saeed Ajmal, Kumar Sangakkara and Alastair Cook.
She played her part, at the age of 19, in the shock two-run defeat that West Indies inflicted on England in St Kitts at the last t20 World Cup, knocking out the holders and favourites before the semi-final stage.
"It did hurt," Sarah Taylor said. "For me personally going to Sri Lanka is very important, almost to put right what we did then and prove that it was just a glitch. I can't really put my finger on what went wrong."
"There were a few things," said Edwards, England's long-term and widely-admired leader. "If you slightly underestimate West Indies in their home conditions, they have their home crowd there, and we just didn't react quick enough.
"It was probably one of the most disappointing games of my career. My first 10 years weren't terribly successful but when you're expected to win a tournament and you go out before the semi-finals, of course it still hurts.
"But I think we've moved on since then. We've played brilliant Twenty20 cricket over the last 18 months and we want to put right what happened in the West Indies and prove to people that it was just a blip.
"It's been a motivator for me for the last two years, absolutely. That's been probably the catalyst for us turning our Twenty20 cricket around and being more aggressive and more selfless and knowing our roles. We've been preparing for this for 18 months."
Putting things right for England has involved a 15-match t20 winning run, which continued with consecutive victories over Pakistan in Loughborough last week – Edwards agreeing that the quiet improvement being made by Pakistan, which has even involved central contracts for some of their leading players, represents potentially significant progress both for world women's cricket, and for women in Pakistan.
But now things become much more serious for England, with the five matches against West Indies, whose formidable firepower also includes Deandra Dottin, a Bajan cousin of Ottis Gibson, the men's coach. The first two games, at Durham on Saturday and Old Trafford on Monday, will be played before England's men's team face South Africa in their t20 World Cup preparations.
"They're huge games for us as a team," said Edwards. "It's definitely something that floats our boat."
The presence of the two Taylors should also make these pre-World Cup contests well worth an early start.