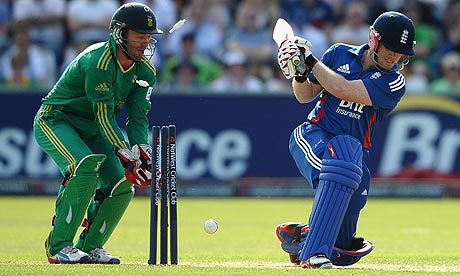 Preamble Welcome to the future. Here you won't find mouthwatering slabs of meat with not a single gram of saturated fat or mullet seeds that grow the full Bruce Reid in just a couple of days. Here you'll find a three-match Twenty20 series. But this is the future. It's the first time England have hosted a T20 series of more than two matches; since international T20 began, only 10 out of 168 series have had three matches. In an age of burnout, these are additional games we should approve: every series needs a minimum of three matches, even in the shortest form, and the quid pro quo will come in the steady reduction of 50-over contests.
That's for the future. The present is all about the World Twenty20, which begins in ten days' time. England feel a little vulnerable in this form of the game. Without so many staples of the Test side, this almost feels like a B-team – and not just because they have Broad, Bopara, Bairstow, Briggs, Buttler and Bresnan in their 15-man squad. Yet they are second in the ICC rankings and – stop me if you think you're read this one before – will go above the leaders South Africa if they win today.
(In a bizarre/hilarious (delete as appropriate) development, Australia are now tenth in that table, below Bangladesh, Ireland, Ilford 2nds and the Kent Under-14 Tomboys Called Claire or Melissa XI. Although they aren't completely useless: look at this catch!)
South Africa have won the toss and will bowl first. England are unchanged from the side that beat the West Indies in their last T20 match in June. South Africa have omitted Hashim Amla.
England
Kieswetter (wk), Hales, Bopara, Morgan, Bairstow, Buttler, Patel, Broad (c), Swann, Finn, Dernbach.
South Africa
Levi, Kallis, du Plessis, de Villiers (c/wk), Duminy, Ontong, A Morkel, Botha, Peterson, Steyn, Tsotsobe.
Something to talk about If you could invent one thing, what would it be? I reckon I'd go for a third sex, just to liven things up. I was born trisexual, what can I say.
Earlier today, on the same ground, England Women hammered West Indies by eight wickets with an absurd 62 balls to spare. Woman they are a good side these days. Holly Colvin had the stunning figures of 4-1-5-2. We're hoping to OBO some of the women's games during the T20.
1st over: England 9-0 (Kieswetter 1, Hales 8) The left-arm spinner Robin Peterson opens the bowling. It's a bit low key, with a crowd that feels quiet rather than hushed. The pitch looked a slow turner during the women's game earlier, and England struggle to time it for the first few balls – but then Hales takes consecutive boundaries with a lofted sweep and a pleasant cover drive. He made 99 in England's last T20 match of course.
"Key men today, Bopara and Du Plessis – battle of the No3s!" says Harry Tuttle. "The moveable object versus the resistible force!" Actually the freedom of the format might help them both. Just hit the ball.
2nd over: England 10-0 (Kieswetter 2, Hales 8) It's been a slow start from Kieswetter, who is beaten by a sharp bouncer from Dale Steyn. He taps a slower ball for a single to take him to 2 from 8 balls, but that's the only run from a superb over.
3rd over: England 24-0 (Kieswetter 16, Hales 8) I suppose it's important that England don't overreach on this pitch. If they go for 180 they could be bowled out for 80. Judging what a good score might be is an underrated quality in a limited-overs batsman. Anyway, Tsotsobe is on for Peterson, and Kieswetter makes room to drive his third ball classily through extra cover for four. He does play some lovely-looking shots. This wasn't one of them, mind: the next ball is short, outside off stump, and Kieswetter edges a roundhouse right through the vacant first-slip area for four. He makes it 14 from the over by pulling the last delivery high over midwicket for six. Remember when every six was an event, worthy of at least one exclamation mark, and maybe 12 if Chris Tavare hit one?
"Somewhat predictable but (it's topical so I'm going with it anyway) it would probably be a transporter," says Lorraine Reese. "More sleep and no having to cope with wide-awake school children on an early morning."
WICKET! England 27-1 (Hales run out 11) England's good start is ended by a soft run-out. The non-striker Hales was sent back by Kieswetter and Kallis, running in from midwicket, hit the stumps with an excellent throw. Hayes was well short and has gone for 11 from six balls. I'm not sure whose fault that was; Kieswetter didn't seem interested in a run at any stage.
4th over: England 28-1 (Kieswetter 17, Bopara 0) Albie Morkel's first over costs just four.
5th over: England 36-1 (Kieswetter 24, Bopara 1) BREAKING NEWS: RAVI BOPARA SCORES A RUN. Sorry, that's not reallly fair. Anyway, he gets going with a gentle single off Tsotsobe; then Kieswetter slices another wild yahoo at Tsotsobe high over the slips for four. He's dropped next ball by the leaping Botha at mid-on. It would have been a stunning catch; only those with a telescopic arm need apply. Botha could only help it on the way for a couple.
6th over: England 40-1 (Kieswetter 25, Bopara 4) Bopara can't play for himself here. There is not a ball to waste in T20. And actually, swinging from the arse straight away would probably help him. In fact he has started pretty cautiously, and after three dot balls he clunks Morkel on the bounce to mid-on. Four from the over.
"I would invent a food that is as healthy as broccoli and celery but tastes as good as donuts," says Alistair M.
Donuts
?
WICKET! England 40-2 (Kieswetter LBW b Botha 25) The offspinner Johan Botha strikes with his first ball. That turned sharply back into Kieswetter, who was caught in front of the stumps on the back foot. There are no reviews so he has to walk; I doubt he would have reviewed that anyway. Hawkeye shows it was emphatically the right decision.
7th over: England 47-2 (Bopara 5, Morgan 6) Botha tempts Morgan with a bit of flight; Morgan waves a superb drive wide of extra cover for four.
"
Genius at work...
" says Andrew Hurley.
WICKET! England 50-3 (Bopara c Botha b Steyn 6) Dale Steyn comes back with a view to nailing England's best batsman – although if he picks up Eoin Morgan they won't complain either. Honk! Ho-honk!! Go on, honk with me. Honk on, honk on, with honk in your heart. Er, yes. Anyway, poor Bopara has gone again, edging a leaden-footed drive to Botha in a wide slip position. Good captaincy from de Villiers to have a slip in, and clinical work from the wonderful Steyn. Bopara made six from 11 balls; he looks utterly shot.
8th over: England 50-3 (Morgan 7, Bairstow 0) South Africa are right on top here. "At the gym, watching Faf throw himself around makes me wonder, if its possible to consider a cricketer an 'allrounder' based on their batting and fielding prowess?" says Sandile Xaso. "The likes of Jonty, Ponting, Collingwood and other specialist fielders." Good question. Maybe it applied more in the past, when very few fielders were exceptional. Roger Harper, say. Nowadays the general standard is so high that the greats don't stand out quite as much.
9th over: England 59-3 (Morgan 9, Bairstow 7) Bairstow gets off the mark with a wonderful extra-cover drive for four off Botha. Nine from the over. "Is it too late to remove Bopara from the World T20 squad?" says Andrew Hurley. "Don't want to kick a man while he is down but his England career should be ended. He just hasn't got it, and there are so many promising batsmen who deserve a go."
And yet six weeks ago it looked like he had almost cracked it in one-day cricket and that he would get the next two Test series for us to find out once and for all if he could do it. His career has been savaged by misfortune. If you could change the squad (I don't think you can) I would as he has gone mentally. But I'd give him one more go, certainly in limited-overs cricket, when his head is right. His England career reminds me a bit of Andy Cole's England football career, full of unusual incidents and dumb luck that eventually leaves you with only one conclusion: some things just aren't meant to be. I wonder how different his life would be had England not taken the crass decision to give him his Test debut in Sri Lanka.
10th over: England 64-3 (Morgan 10, Bairstow 9) Here's Jacques Kallis, proof that T20 is a young/slim man's game. His first over costs only five. England are around 15 runs short of par at the moment, although they have some hitters to come.
WICKET! England 66-4 (Morgan b Botha 10) Go home. There's nothing to see here. South Africa have surely won this match now. Morgan has been bowled by Botha, trying to pull a quick, fullish delivery and dragging it back onto the stumps. That's excellent bowling. Morgan was done on length and maybe beaten for pace as well.
11th over: England 67-4 (Bairstow 10, Buttler 1) There's too much pressure on Morgan in this line up, and to a lesser extent in the 50-over side as well. He copes with it superbly but that does not mean it is right, and even he will start to feel that pressure eventually. Every man has his breaking point.
"I would invent cycling shorts that don't reveal everything downstairs," says Jamie Stothard. "I don't cycle, I just feel my invention should be for the greater good."
12th over: England 74-4 (Bairstow 13, Buttler 5) Jos Buttler has had a slow start to his England career – 30 runs in six innings – but he is a serious talent. Bairstow collides with the bowler Kallis. Have a guess which one ended up on his derriere? Seven from Kallis's over, none in boundaries.
"Just enjoyed a slightly incongruous blast of Jarvis Cocker's Common People at the wheelchair tennis," says Gary Naylor. "Anyway, without the power that comes from a standing strong base, this sport is all about the timing of the cock of the wrists in that moment that the ball is on the strings. It's how you imagine VVS Laxman and Mahela Jawayardene would play tennis. It's rather soporific in this heat, but beautiful too."
WICKET! England 76-5 (Buttler b Petersen 6) Another failure for Jos Buttler I'm afraid. He came down the track to Peterson, who did him completely for lack of pace, and the ball turned past the outside edge to hit the stumps. Another fine piece of bowling.
13th over: England 77-5 (Bairstow 14, Patel 1) This death by spin does not bode too well for the World Twenty20 in Sri Lanka.
WICKET! England 80-6 (Bairstow c Botha b A Morkel 15) Well this is going well. Bairstow tries to ping Morkel over midwicket but screws it straight into the hands of long-on. England are in a mess.
14th over: England 81-6 (Patel 3, Broad 1)
"Here's a stat for you: England's lowest ever score in T20s is 88," says Harry Tuttle. "For a team stocked with specialist batsmen, this is a shambles. It is mystifying how much we rely on Morgan." What are the alternatives, though? Even in 2010 England were reliant on three batsmen:
Morgan, Pietersen and Kieswetter
. This is a phase they have to go through while some young players find their feet, which takes a while in this form of the game because the matches are so infrequent.
15th over: England 83-6 (Patel 3, Broad 3) Two from Botha's fourth over. He ends with fine figures of 4-0-19-2. Lalalalalala.
WICKET! England 85-7 (Patel c Kallis b Peterson 4) Twenty20 is a young man's game, right? Right? Well ... Jacques Kallis, aged 72, has just taken a wonderful catch at long-off, lumbering round and then sliding forward to take the ball a fraction above the turf. Samit Patel goes for four and Robin Peterson has his second wicket.
16th over: England 86-7 (Broad 5, Swann 0) "What makes this whole debacle worse," says Dave Besley, "is that Piers effing Morgan will be over the moon, probably gloating on Twitter as we speak." What is Twitter?
17th over: England 89-7 (Broad 7, Swann 1) Destination: nowhere. Speed: fast.
"Twitter was a-buzz with Dan Christian's catch against Pakistan yesterday, which was absolutely jaw-dropping," says Scott Oliver, "but surely it can't top this one from Queenslander Trevor Barsby back in the late 90s." Oh my word that is preposterous.
18th over: England 101-7 (Broad 14, Swann 6) Swann mows Peterson for four – the first boundary, a little hilariously, since the ninth over. Broad creams another boundary down the ground to complete a rare good over for England. If they can sneak around 72 runs off these last two overs the game might not be over after all.
19th over: England 110-7 (Broad 17, Swann 12) The penultimate over of the innings, bowled by Kallis, costs nine. The one boundary comes from Swann, a screaming drive over the covers.
20th over: England 118-7 (Broad 18, Swann 18) The last over. Swann helps Steyn's first ball over short fine leg for four, prompting some entirely sober England fans to do the Poznan. STOP THAT, NOW. That's the only boundary from an eight-run over. So South Africa will need 119 to win. This eighth-wicket partnership has allowed England to save face; they will do extremely well to save the game. (Plotspoiler: they don't save the game.)
INNINGS BREAK
1st over: South Africa 8-0 (target: 119; Levi 8, Kallis 0) Richard Levi, who scored the fastest T20 international century off only 45 balls earlier this year, faces up to Steven Finn. He is beaten by the first two balls and smears the third down the ground for four, a disgusting and effective shot. The next ball is pulled sweetly for four, and then he inside edges wide of the stumps. This bloke is just a fat biffer! He's also a pretty effective one.
"Have an email," says good samaritan Jen Bartlett. "I don't know if this'll stave off the madness or the score-induced black glooms of depression but hey, it's a start right?"
This is my facial expression now
.
WICKET! South Africa 9-1 (Levi c Swann b Dernbach 8) Levi's aesthetic cameo comes to an end with a regulation edge off Dernbach to slip, where Swann takes a sharp catch. That's a good wicket for England, because five overs of Levi would have finished this game.
2nd over: South Africa 13-1 (target: 119; Kallis 1, du Plessis 4) "Re: the Barsby catch, sure, the grab was phenomenal but the celebration left a little to be desired," says David Wall. "It would have been Berbatov-esque nonchalance, to match the catch itself if he'd simply put the ball in his pocket, strolled up to the batsman and offered a consoling handshake and pat on the shoulder as he tried to work out precisely what had just happened on his way back to the pavilion."
WICKET! South Africa 14-2 (du Plessis LBW b Finn 4) An inevitable failure for the out-of-form Faf du Plessis, who pretty much walks for an LBW. It was full from Finn and trapped du Plessis plumb in front as he whipped hopelessly across the line.
3rd over: South Africa 14-2 (target: 119; Kallis 2, de Villiers 0) "I think pushing Kieswetter down the order, so he comes in after Morgan, would go some way toward lifting the pressure," says Harry Tuttle. "That's the rationale in the ODIs, I think, and it could work here - opening with Wright, whose T20 batting has by all accounts come a long way since the last T20 World Cup, and Hales would also give you the option of Wright's bowling." Hmm, maybe. Is Luke Wright good enough to open in international cricket, on the subcontinent? If you are going to change the openers it might be worth putting Lumb in. Either way, I fear we may just have to wince and bear it during the World Twenty20.
WICKET! South Africa 29-3 (de Villiers c Kieswetter b Dernbach 10) Crikey. England are back in this match. Dernbach disappears for 15 from five balls but strikes with his sixth, the huge wicket of the captain AB de Villiers. He went for a big drive at a ball that was a bit too straight and took a thin edge on its way to Kieswetter.
4th over: South Africa 29-3 (target: 119; Kallis 7, Duminy 0) There is a marmot in South Africa's bath, but Jacques Kallis looks totally unperturbed. England need to get him; then you have official permission to get excited.
5th over: South Africa 34-3 (target: 119; Kallis 8, Duminy 4) Duminy is beaten by Finn, on the inside, and then drives him sweetly through extra cover for four. "God bless Jade Dernbach," says Emma John. "He's the only thing justifying my misanthropic darkened-living-room existence when the rest of the world is frolicking in the final throes of summer."
Do people
actually
frolic? I always wanted to frolic as a kid even though I had no idea what it actually entailed. What
does
frolicking entail? Do you have to be below a certain age to frolic? Can bald people frolic? Are ginger people allowed to frolic? WHY WILL NOBODY FROLIC WITH ME?
6th over: South Africa 40-3 (target: 119; Kallis 13, Duminy 5) Broad comes on for Dernbach. England need to keep taking wickets because the required rate is below a run a ball. Kallis opens the face to steer Broad cleverly wide of slip for four. Since the advent of Tom Cleverley I've completely forgotten how to spell cleverly. Thank goodness there isn't a player called Honck or I'd be a mess. Honkk!
7th over: South Africa 50-3 (target: 119; Kallis 21, Duminy 6) Ravi Bopara's first over costs 10. Kallis hits consecutive boundaries to third man and fine leg, both from poor deliveries. Bopara has been able to compartmentalise his bowling during his recent struggles but that was a bad over.
"Bald people," says Mike Selvey, "are frolically challenged."
8th over: South Africa 53-3 (target: 119; Kallis 22, Duminy 8) Graeme Swann comes into the attack. He has bowled superbly in T20 cricket for a while now and is top of the ICC bowling rankings. The problem for him here is that South Africa don't need to take any risks; they can just nurdle him for a few singles, which is precisely what they do. There's a big LBW shout against Kallis off the last ball but he was well outside the line. South Africa need 66 from 72 balls.
9th over: South Africa 54-3 (target: 119; Kallis 22, Duminy 9) An excellent second over from Broad goes for just a single, with Kallis beaten on the drive.
10th over: South Africa 61-3 (target: 119; Kallis 24, Duminy 14) Kallis is bringing his experience to bear, taking minimal risks against Swann. He knows that if he bats until the 18th over South Africa will almost certainly win this game. Swann's second over goes for seven, all fairly low-risk ones and twos. England need a wicket.
11th over: South Africa 72-3 (target: 119; Kallis 25, Duminy 24) Lovely batting from JP Duminy, who reverse sweeps Samit Patel's first two deliveries for four. South Africa need 47 from 54 balls; England need a couple of snookers and seven wickets.
12th over: South Africa 76-3 (target: 119; Kallis 26, Duminy 27) Swann has a deceptively good, lone shout for LBW against Kallis turned down by Richard Illingworth. Hawkeye shows it was the right decision, with the ball turning past the leg stump. There is a token run-out referral later in the over but Kallis was almost past the stumps. South Africa need 43 from 48 balls.
13th over: South Africa 84-3 (target: 119; Kallis 28, Duminy 33) Duminy opens the face to steer Finn to third man for four. Finn's knee hit the stumps during his action but it was not called dead ball, to Stuart Broad's mild consternation. Rob Bailey does call dead ball later in the over; that's pretty consistent with how the umpires did it during the ODIs. This match has been a copy of the last ODI: below-par score from England, three early wickets to give them significant hope, and then a calm, mature fourth-wicket partnership to win the game.
14th over: South Africa 87-3 (target: 119; Kallis 28, Duminy 35) Swann bowls his fourth and final over. South Africa have not hit a boundary off him, but the other nought – in the wickets column – is by far the most important. He was England's main threat and they have seen him off with figures of 4-0-16-0.
"T20's, I just hate them," says Gautam Ganapathy. "Hate everything about the game. Damn you English for the 'innovation'. I guess some idiot with a business administration degree would have come up with it. Why can't we banish these idiots (the administrators) and have people like G.H.Hardy, Samuel Beckett, H.G.Wells reborn and take over the game from ICC (BCCI) (Shhh). I sometimes imagine J.M.Coetzee watching the current SA team playing Test cricket and feeling a little less 'anxious and absurd'. Why don't the Germans play cricket? Beethoven, Adorno, Marx and Hegel would have made really classy cricketers. Don't you think so?"
Were you eavesdropping in the pub last week? How do you know my chat-up
line
rant word for word?
15th over: South Africa 92-3 (target: 119; Kallis 29, Duminy 39) A throw from the deep rears viciously to hit the helmetless Kieswetter in the shoulder. That could easily have given him the Shane MacGowan look. Does Shane MacGowan frolic? I want to frolic. The theme to Curb Your Enthusiasm is called Frolic. Does that count as irony?
16th over: South Africa 99-3 (target: 119; Kallis 34, Duminy 41) We often talk about those who bowl into the wind; here Dernbach is doing something else into the wind. His efforts are futile because this match is over. What a naff game of Twenty20 it has been. Twenty-four fours, one six and no contest.
17th over: South Africa 105-3 (target: 119; Kallis 39, Duminy 42) Kallis drives Broad sweetly over mid-on for four. South Africa need 14 from 18 balls. "Sod it," weeps Emma John. "I'm going to frolic."
18th over: South Africa 115-3 (target: 119; Kallis 46, Duminy 45) Bopara starts with a filthy leg stump full toss that is helped for four by Kallis. The poor lad has to be left out of the next match, surely. It would verge on the inhumane to play him. "Reckon we'll win this," says Alex Netherton.
19 overs: South Africa 118-3 (Kallis 48, Duminy 47); SOUTH AFRICA WIN BY SEVEN WICKETS!!!!!!!! Kallis hits the winning runs off Dernbach to complete a crushing victory for South Africa, with seven wickets and six balls to spare. England were never in the game after a hopeless performance with the bat. The next match is on Monday. Bye!