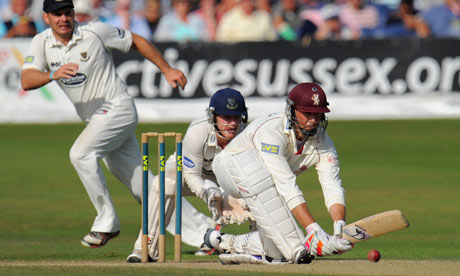 The news that Warwickshire could no longer be caught at the top of the county championship, long expected, evinced no obvious reaction from the crowd at Hove. The Sussex players would no doubt claim to have been similarly unaffected but their performance for much of the afternoon would suggest otherwise as Somerset, chasing an apparently unlikely 396 to win, reached 147 without losing a wicket. Only in the final half-hour, when the visitors lost four wickets in short order, did the sense of anticlimax begin to lift.
Well though Arul Suppiah played after taking an age to get off the mark, it was the loss of Marcus Trescothick in particular which almost certainly spelt the end for Somerset, both in this match and in terms of their chances of finishing as runners-up in the Championship.
The rewards for so doing, £50,000 for the club and some £162,000 to be divided between the players, are well worth having but without three front-line batsmen in Nick Compton, Craig Kieswetter and Jos Buttler, Somerset's remaining batting line-up has all the breaking strain of a Kit Kat – other chocolate-covered wafer bars are available – as was evidenced in their first innings, when their last nine wickets fell for 62 runs. Sure enough, the captain's dismissal, bowled by Monty Panesar after coming down the wicket at the left-armer and somehow dragging the ball on to his stumps, led to Somerset losing four wickets for four runs.
Suppiah fenced at a Steve Magoffin lifter and was caught at the second attempt by Matt Prior at first slip and, having built up a head of steam, the Australian seamer bowled Chris Jones and had the night watchman Steve Kirby well caught by Chris Nash at short-leg.
It was an uplifting end to what had previously been a day of mixed emotions for Sussex all round. With Murray Goodwin on an unbeaten half-century overnight, another excellent crowd turned up in the hope the Zimbabwean would mark his final innings for the county with his first century of the season. Watched by his parents, flown in by Sussex from Australia, Goodwin had moved fluently on to 77 when Alfonso Thomas moved a delivery off the seam and found the edge.
With Nash having gone in similar fashion a few overs earlier and Goodwin, a notoriously bad runner, having run out Matt Prior for old time's sake, Sussex subsided in the face of an excellent spell by Thomas.
With a lead of almost 400 against the weakest Somerset batting line-up of the season, it did not matter.
Afterwards Goodwin – who was informed his contract would not be renewed only on Sunday – said he had not entirely given up hope of returning to Sussex next season. At least two counties have already been in touch with a view to his playing for them next year but Goodwin said that, depending on budgeting issues, it was not impossible he would be back at Hove next year.
One player who definitely will not be in Sussex colours next season is the wicketkeeper Andrew Hodd, who has now joined Yorkshire permanently, following a loan deal which began last month.